Hottest trend in Backyard Grilling: Pellet Grills
Updated: Oct 11, 2020
What you need to know BEFORE you buy
Do you love the taste of food that has been perfectly smoked? Well, you're not alone. In fact, more people are switching to pellet grills for their backyard grilling needs for this exact reason. Pellet grills are outselling other types of grills by a wide margin. Gone are the days when outdoor grilling was limited to charcoal or gas, relatively recently a brand-new type of grill hit the market – the pellet grill.
What is a pellet grill and how does it work?
Pellet grills/smokers are a type of grill that utilizes electricity to burn compressed wood pellets as cooking fuel. Wood pellets are poured into a hopper connected to the fire pot via an auger tube. Depending on the temperature you select, the auger feeds the correct amount of pellets into the fire pot triggering an igniter to fire the wood. The pellet grill also uses fans and a digital controller on the thermostat to maintain your desired temperature.
1. Grilling and Smoking Made Easy
If the constant monitoring and refilling of your coals is beginning to wear you down, then you should definitely consider a pellet grill! One of the best features of a pellet grill is how easy they are to use. Seriously, we're not kidding! Just fill the hopper with pellets, empty the ash pail, and select your desired temperature and smoke level. That's it! Once you set your desired temperature, the pellet grill takes over to maintain it and feed the wood pellets as needed.
2. Extremely Versatile Cooking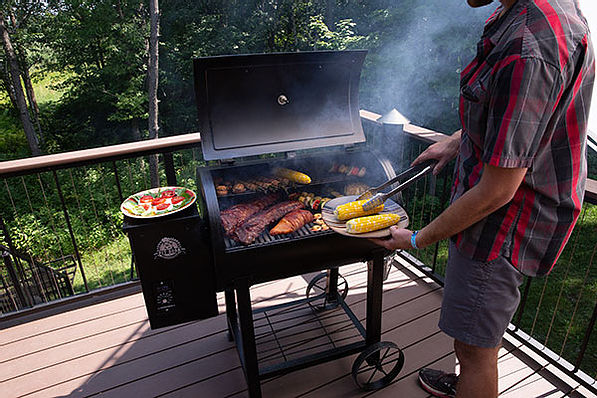 Whether you're looking to BBQ or even bake bread, pellet grills will have you covered. Pellet grills are not only capable of grilling and smoking but they're also fantastic for baking, roasting and braising. Anyone else now craving wood-fired pizzas?
3. Endless Flavor Options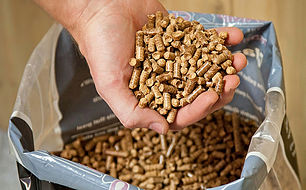 Speaking of wood-fired flavor, hold on to your taste palate! Wood pellets come in a variety of flavors including:
Apple

Mesquite

Hickory

Fruit

Competition Blend

Cherry

Maple

Oak

Pecan
4. It Saves You Time!
If you've ever had to run outside in the middle of watching a great game to check on the temperature of your grill, then you know how frustrating and time consuming it can be. This is where the pellet grill shines! The temperature control of pellet grills gives you the freedom from having to manage your heat in the way you would with a charcoal grill. In fact, some pellet grills are wifi-enabled and come with their own app allowing you to monitor everything from the comfort of your phone and couch.
5. It Saves You Money!
When it comes to considering what type of grill to purchase, we can't forget to factor in the costs associated with purchasing charcoal and gas tanks as well as the long-term durability of the actual grill. Typically, a bag of wood pellets costs much less than a bag of charcoal briquettes and while similar in cost to a new gas tank, a bag of wood pellets will last much longer. Additionally, many of the top pellet grills on the market can last for a decade or longer. Can your grill do that?
What Should I Consider Before Buying a Pellet Grill?
1. Availability of Electrical Outlets
Keep in mind the electronic digital controller, pellet feeder and fan require 120v AC power in order to function, so you will need to consider where you will place the grill based on overall safety as well as the location and availability of your exterior electrical outlets.
2. Stainless Steel vs Painted Pellet Grills
While there will always be some level of variation between pellet grill manufacturers, typically stainless-steel pellet grills tend to prove more resistant to rust and corrosion than their painted counterparts.
3. Pre-seasoning Your New Pellet Grill
We all know how exciting it can be to purchase a new grill and rush to get the first meal on the dinner table but in the case of pellet grills we recommend a bit of patience and restraint. Pellet grill manufacturers typically recommend that you perform a 'burn-in procedure' prior to cooking on your grill for the first time. This usually involves loading the hopper, setting the temperature per the manufacturer's instructions and allowing it to run for 30 minutes to an hour. Burn-in procedures vary based on manufacturer, so you'll need to check your owner's manual.
4. On-The-Go Grilling
Consider how you want to use your new pellet grill. If you're looking for a grill to take to the beach, camping, or tailgating on game day, then a pellet grill is not likely going to be a good choice as they do require access to a power outlet.
The Final Word
Ultimately, the final decision to purchase a new pellet grill will depend on the individual wants and needs of the grill master.As with any purchase, we always recommend that you review the pros and cons, but if you're looking for a wide variety of flavor and cooking options, then you can't go wrong with a pellet grill.